This post contains affiliate links. Affiliate disclosure: As an Amazon Associate, we may earn commissions from qualifying purchases from Amazon.com and other Amazon websites.
Let your keyboard boost with your video editing rather than hold you back by switching to one of these specialized keyboards. This list contains a wide range of products so we know you'll be able to find the right keyboard for you below!
This product was recommended by David Alexander from Mazepress
I think the best keyboard for video editors is actually a companion keyboard called a StreamDeck. I use a Microsoft Studio Keyboard as my main keyboard and I have the Streamdeck next to it. This allows me to set up the Streamdecks customizable buttons with different icons so I can easily edit video without having to remember hotkeys. It's also ideal if you need to travel and edit video on a laptop where you want to travel light. As the Streamdeck is small and compact and can easily fit in your laptop bag. You can also choose from 6 key, 15 key or 32 key versions, I personally use the 15 key model.
---
This product was recommended by Yoav Shalev from Tap Systems, Inc.
Video editors can quickly map custom commands and macros to make editing a seamless, effortless and fun experience 🙂
---
This product was recommended by Lilia Manibo from Anthrodesk
Designed for those who enjoy the portability of devices along with the convenience and efficiency of typing on an actual physical keyboard. Compact and portable, our keyboards, are the ideal companion to your laptop, smartphone, tablet, or Home Theater PC system. For across-the-room control of your laptop or device – even when it's connected to your TV or charging! Say goodbye to hunching over your laptop and constantly getting up to navigate on your TV-connected laptop. Lean back and enjoy convenient typing and multi-touch navigation right from your couch.
---
This product was recommended by Jim Costa from Jim Costa Films
The LogicKeyboard Astra Series Adobe Premiere Pro CC Mac Backlit Keyboard offers five selectable light levels, making it suitable for use in any lighting environment. The keyboard is color coded and printed with shortcuts which makes makes controlling Adobe Premiere Pro CC software a lot simpler and faster. This also makes it easier for newbies to learnt software quickly. The unit includes all the regular letter, number, and symbol labeling that you will find on a conventional keyboard for everyday use outside of editing. No software is required to use it with your existing system as it's plug and play. It also features two USB inputs for peripherals.
---
This product was recommended by Jim Costa from Jim Costa Films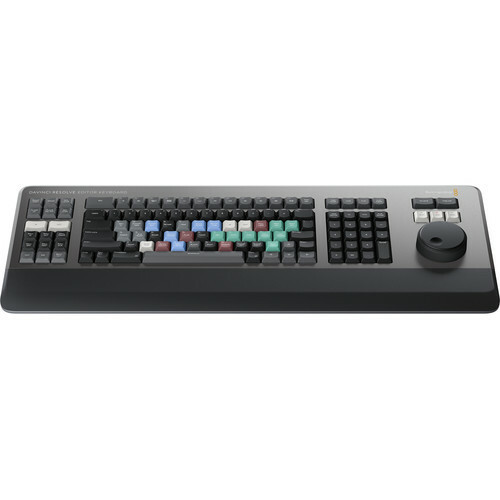 This workhorse keyboard is constructed in all metal with professional edit keys and a search wheel permitting editing with both hands. It's designed to plug into USB Type-C computer ports and works without any batteries. The keys are tiered making it easy to navigate by touch. The keys are guaranteed for at least 1 million operations so the keyboard will last longer then the computer your using it with! The search dial is rubber coated and have multiple bearings built in offering smooth operation. There's an integrated electronic clutch that creates end stops when used for shuttle and position. The dial can also be spun 360 degrees for jog mode.
---
This product was recommended by Jim Costa from Jim Costa Films
The Microsoft All-in-One Media Keyboard features an integrated multi-touch trackpad, where you can type, swipe, drag, zoom, and click. It is a generic model so it won't have shortcuts marked on it like the others I've mentioned, but it works just the same. You just need to memorize the shortcuts.. If you do need to store some shortcuts, it has customizable media hotkeys.. The unit allows for volume controls. It is spill resistant and includes wireless connectivity up to 30 feet away.
---
This product was recommended by Jim Costa from Jim Costa Films
The cover includes all the custom-key commands readily accessible on a dedicated, clearly labeled, color-coded keyboard, except in cover form. All you need to do it lay the cover over our existing keyboard and your good to go.. The silicone cover protects your keyboard from dirt and dust and is machine washable.
---